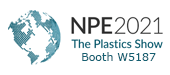 Garrett from our office attended the NPE 2018 Space Draw this week and selected a great booth location for us in the main hall. We are really excited to be exhibiting at NPE again next year. It's hard to believe it's over a year away. Click below to see where we are going to be and make sure to visit us.
Booth Number: W3793
See our location on the Floorplan
Here
Comments
No one has commented yet. Be the first to post one!