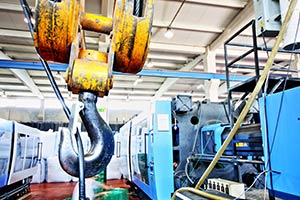 In addition to the outright purchase of equipment that Arlington Plastics Machinery, Inc. offers for most equipment, we also offer Exclusive Sales and Consignment Agreements.
Exclusive Sales Agreement
If you have idle capital assets and would like to liquidate your equipment, an Exclusive Sales Agreement with Arlington may make sense. With this option, you retain control of your equipment while we market it and sell if for you. Arlington incorporates your equipment into our marketing campaigns to get the best results possible for your equipment. Length of agreement (typically six to 12 months) is determined with you to suit your needs.
Consignment Agreement
If you have idle equipment that is taking up valuable productionspace, let Arlington Plastics Machinery, Inc. bring your machinery into one of its facilities. Reclaiming production space can have an immediate impact on your profitability and returns.
Let our knowledgeable staff handle the marketing, descriptions, photos, quotes, customer inspections and paperwork. Once the equipment is sold, we notify you of the sale and you are paid before the machinery is shipped to the buyer.
We make equipment inspections easy for potential buyers. We are located 15 minutes from O'Hare International Airport. When a customer arrives at the airport, we pick them up, show the equipment and can return them that same day. Having your equipment at Arlington has its advantages including the ability to test, repair, or refurbish the equipment.
Listing and Brokerage Services
Use our online form to submit the specifications of your equipment along with photos and/or video to Arlington Machinery. Or call us and Arlington's staff can assist with the machinery write-ups/ and place the equipment in the appropriate category. We can create a listing to our website and market your equipment to potential buyers.
Warehousing Options
Increase Manufacturing and Cash Flow
Placing equipment on consignment with Arlington allows you to reclaim vital space for manufacturing while maximizing investment recovery returns.
Arlington utilizes three warehouses to help customers alleviate their space issues.
Over 60,000 square feel available among 3 locations
Located minutes from Chicago O'Hare International Airport
Overhead Cranes with a Capacity of 10-30 Tons Each (ability to combine cranes for a 100 ton capacity)
Fully Heated Warehousing Space Available
Sprinkler System
Custom Crating
Uncrating and Trailer Loading & Unloading
Container and Trailer Loading & Unloading
Capabilities to connect power to machinery to test or repair
Simple Cleaning Available at All Locations
Complete Refurbishment Available
Plastics Equipment Appraisals & Appraisal Assistance
If you need to establish what your equipment is worth and need an equipment appraisal, we can assist in providing a detailed based on our experience.