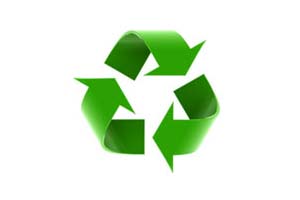 With the world shifting towards "green" living, plastic recycling equipment is more in demand than ever across many industries that work with the material for all types of applications. Instead of throwing away defect plastic materials, these products can be shredded, melted and repurposed for different end products. Recycling plastic is imperative in today's global climate, and Arlington Plastics Machinery has the plastic recycling equipment needed to reduce any company's ecological footprint.
There are many types of plastic recycling equipment which reprocess plastic and make the material reusable for another product. From shredders and granulators to pelletizing extrusion lines and pelletizers , these machines can be used in conjunction to break down larger plastic pieces into smaller particles, melt the particles and then mold the melted plastic into a new product. Arlington Plastics Machinery has all these types of machinery available including strand pelletizers, underwater pelletizers and liquid ring pelletizers, for purchase located in our massive inventory.
Used Equipment for Recycling Plastic
The benefits to using recycling machinery are endless. Recycling plastic reduces costs and the waste of raw materials. This contributes directly to a company's bottom line. Also, recycling machinery is commonly more energy efficient and allows for increased productivity, both of which influence a reduction in costs. However, the most important benefit of recycling machinery is reducing the waste in landfills and the detrimental effects this has on the earth. You can easily be more environmentally conscious by utilizing recycling equipment to reuse plastic products.