Whether you manufacture car parts or milk jugs, you know the important role that blow molding machinery plays in your production. Therefore, you should only choose quality machinery to ensure that your process is as efficient as possible. At Arlington Plastics Machinery, we have been providing purchasing, storing, refurbishing, and selling used plastics machines and more for over 30 years. With our experience, you can count on us to provide you with exceptional value when you choose our blow molders.
Benefits of Blow Molding Machines
When you come to Arlington Plastics Machinery, you can expect superior service from start to finish to ensure that you find the right machine for your manufacturing process. You can discuss your product and budget with one of our sales people. From there, we can help you choose a used machine to fit your needs. We currently offer blow molding machines in five distinct categories, including:
Accumulator Head: With the large shot size, this version is ideal for industrial containers, large housewares, and automotive panels.
Reciprocating Screw: If you are molding small parts, you can take advantage of the reciprocating screw style.
Continuous: Use this machine is you need high production runs for large product output.
Injection Blow: This option is ideal for small medical and research containers.
Injection Stretch: With the two-step process of this machine, you can create more product strength with few raw materials.
Benefits of Accumulator Head Machines
Most manufacturers choose the accumulator head because they want to mold larger parts than the reciprocating screws allow. Some examples include automotive panels and industrial containers. The extrusion heads also help you to extrude parison quickly to minimize hang time and parison sag. In addition, many people choose this style of extruders because of:
Issues with strength and appearance of parison knit line
Difficulty with processing high molecular weight polyethylene
Circumferential wall thickness distribution
Benefits of Reciprocating Screws
If you are working with smaller plastic products, you don't need the large shot size of the accumulator head. Instead, you can benefit greatly from the even heat distribution of reciprocating screws. The extruder moves backward and forward similar to an injection molder but with the molds under the die head. Once the plastic is melted, it is shot into the mold. This step is the biggest difference between accumulator heads, which as the name implies, allows all of the plastic to accumulate before being shot into a large mold.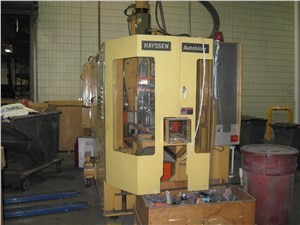 Request More Information on Our Intermittent Extrusion Blow Molding Machines
To find out which intermittent extrusion blow molding machine is right for your production process, we encourage you to reach out to us at Arlington Plastics Machinery. Call to speak with one of our knowledgeable specialists about your budget and needs, or we can provide you with a free quote after you submit our online form.