View All Liquidations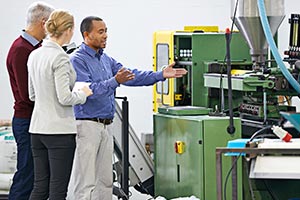 When it comes time to sell a business, a division or even just a few items, we understand that you may not have experience in it and may not know where to begin. Many of our clients have never had to liquidate one or two pieces of machinery, much less an entire processing plant.
Every situation is different and we strive to find out what makes your situation unique from, and similar to, the liquidations we have done before. We establish what you have for sale and what is important to you. Some customers are interested in maximizing their return while others must move immediately. Our initial conversation helps us create a proposal tailored to your specific needs.
Type of Sale
All sales can either be on site, online or a combination of both.
Online Sale
In an online sale, bidders don't physically arrive at your facility but buy all the equipment from a web portal after being registered and vetted for the sale. Usually one or two days prior to the sale are set aside for people to inspect the equipment if they would like, but many bidders buy off of the photos and descriptions marketed on the web. Because of the reach of the internet and the ease of use more and more liquidations are being conducted this way.
Onsite Sale
An onsite sale (auction) is where potential buyers enter your site and bid on the item right before them. This is a good way to create excitement and energy for the sale. It obviously costs more to run an onsite sale so the increased profits have to justify the increased expenses.
Online & Onsight
The best of both worlds is the Webcast Action where buyers can bid either onsite or online. This is a great option for large facilities that have equipment that will be marketed locally and big ticket items that may need to be marketed nationally or globally.
Once the type of sale is agreed to we handle everything. A marketing plan is put into place, the equipment is inventoried and prepared for sale, customers' questions are answered, inspections are made and everything is in place for the sale date.
Equipment and Machinery Sale
On the date of the sale, we handle everything from start to finish. Customers bid against one another to bring the highest price possible. We collect all of the funds, handle the checkout process, and oversee the removal until everything is complete.
You receive an accounting of the sale and a payment in full shortly after the sale and, hopefully, recommend Arlington to anyone else you know that needs to liquidate a facility.
No need to be the expert- that's our job!