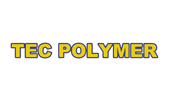 Arlington Plastics Machinery represents the Tec Polymer line of New Plastics Extrusion Equipment. All Tec Polymer new extrusion equipment is Made in the USA allowing for easy access to replacement parts for the end-user.
Air Knives
Standard Sizes: 10", 14", and 22"
10" Air Knife comes with a 1 HP Motor, Stainless Steel Housing, Top Manifold Applies Air Pressure, Bottom Manifold Draws Vacuum, Adjustable Leveling Legs, Includes Starter.
14" Air Knife comes with 3HP motor.
22" Air Knife comes with 5HP motor.
Vacuum Calibration Table
Size: 12
Custom modifications available
3-3 1/2 Weeks Lead Time from Date of Deposit
Standard Configuration:
12' Long x 26" Wide x 4" Deep
Two 1" Wide Tooling Mount Rails on 12" Centers
2 Vacuum Manifolds with 18 Vacuum and 18 Water Ports Each
40 GPM McMaster Carr Bag Filter
(2) 5HP Travini Liquid Ring Vacuum Pump
(1)1.5HP Water Recirculation Pump With Reservoir
80 Plate Heat Exchanger
42" Center Line Plus/Minus 6"
Electric Adjust with Remote
4" Side To Side Adjust
12" Back To Front Adjust
Electrical
480 Volt 3 Phase 60 HZ
Nema 4X Enclosures
Vacuum Sizing Tank
Size: 12
Custom modifications available
4-5 Weeks Lead Time
Standard Configuration:
12' Long x 15" Wide x 16" Deep
304 Stainless Steel 1/8" Thick 3/16" End Caps
3 Vacuum Chamber Configuration
Clear Plastic Lids (Aluminum Lid Upgrade Available)
2 Vacuum Pumps (5HP, 7.5HP)
1 Recirculation Pumps (1.5HP)
Electric Forward/Back, Manual Up/Down
Electric Side to Side
Copper Vacuum Lines
PVC Drain Lines
Electrical
480 Volt 3 Phase 60 HZ
Nema 4X Enclosures
Vacuum Sizing Tank
Size: 12
4 Week Lead Time
Configuration:
145" Long x 20" Wide x 12" Deep
17" x 8" Tank Opening
304 Stainless Steel 1/8" Thick 3/16" End Caps
Two 72" Vacuum Chamber Configuration
12 Water Manifolds
12 Vacuum Manifolds
Aluminum Lid (Choice of 4 Doors Free Upgrade)
2 Vacuum Pumps (5HP, 10HP)
1 Recirculation Pumps (3HP)
Electric Forward/Back, Manual Up/Down
Electric Side to Side
Copper Vacuum Lines
PVC Drain Lines
Electrical
480 Volt 3 Phase 60 HZ
Nema 4X Enclosures