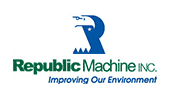 Arlington Plastics Machinery is proud to represent the complete line of Republic Machine Shredders. When paired with our Used Equipment we can create a customized size reduction solution for you. For more information, please call 888-496-3207.
Universal Split-A-Part Shredder
The Split-a-Part grinder has revolutionized the size reduction market with its incredible production rates and simplicity of service. These low-speed high-torque grinders are available in 42" thru 72" widths and are powered by 40 thru 250 HP electric motors. Full functioned touchscreen PLC controls provide all the necessary settings required to run any application. The modular design allows these grinders to be custom engineered for any process.
Download a Brochure on the ez service Split-a-part Universal Machine
The Eagle Shredder
The Eagle grinder continues its legacy in the size reduction market with its robust design and proven history. These low-speed high-torque grinders are available in 42" thru 90" widths and are powered by 40 thru 300 HP electric motors. Full functioned touch-screen PLC controls provide all the necessary settings required to run any application
Small Eagle Shredder Technical Specifications