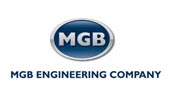 Arlington Plastics Represents MGB Engineering's Complete Line of NEW Extrusion Downstream Equipment. Call 888-496-3207 to receive a quote on NEW Screen Changers, Densifiers, Classifiers, Guillotines or Air Knives.
Screen Changers
New Screen Changers Available within 2 weeks of order placement! Screen Changer Sizes: 3.5", 4.5", 6", 8"
Each MGB Automatic Slide Plate Screen Changer is designed for ease of use and durability.
MGB Screen Changers are constructed in one-piece, have a high tensile strength ductile iron casting, are precision machined to exceed industry standard and to accept standard precision internal components. The body is arranged for one to three heating zones depending on size.
The slide plate is machined from high grade tool steel and contains two recessed removable breaker plates. Each plate is heat treated for toughness, precision ground and lapped for long service. The slide plate is arranged for one or two heating zones depending on size.
We can fabricate upstream and downstream adapters for a perfect fit your extruder and die.
Air Knives
Standard Sizes: 12" wide, 14" wide, 16" wide
Air Knives come standard with 5 HP Dayton blower, 52" Center Line, 208-230/460V, 3460 RPM, 14/7 Amps
Classifiers
Single Stage: 16", 22", 28", 32", or 48" wide, 1 HP 230/460V motor, length consisting of three deck area dimensions: 14" blank, 23" overs and 18" discharge. Unit has 1/4" staggered holes for overs deck.
Two-Stage: 16", 22", 28", 32" or 48" Wide, 1 HP 230/460V motor, length consisting of four deck area dimensions: 14" blank, 27" fines, 23" overs and 18" discharge. Unit has 10 mesh for fines deck and 1/4" staggered holes for overs deck.
Densifiers
MGB 250 HP densifier designed for plastic film reclamation:
The densifier drum is made of a 3/8" thick wear resistant steel plate. The drum is 40" in diameter x 60" high having ten stationary and one rotating blade.
The bottom to the drum is made from a 1" steel plate. The bottom seal for the shaft is a special design to prevent leakage and entry of water to the motor. The support legs are constructed of heavy structural steel tubing and the bottom of the base is made from 3/4" steel plate for additional support. Provisions for bolting down the foundation are also incorporated.
The discharge is approximately 44" from the floor to allow for discharge into a Gaylord box. Direct coupled 250 HP AC TEFC 3 HP exhaust blower.
NEMA 12 control cabinet which will include main curcuit breaker, 250 HP starter (see starter options), breaker and starter for blower, control transformer.
Starter options for 250 HP densifier:
A. Cross the line full voltage starter. B. One half part winding starter C. Electronic soft start, which prolongs motor life and has the potential to save on power use. D. Air operated tilt table to accommodate Gaylords and /or bales for easier feeding into densifier, complete with cyclinder and controls
Guillotines
Standard Size: 36" High by 48" Wide
The overall dimensions are approximately 14 feet high to the top of the hydraulic cylinder, approximately 6 feet wide and approximately 6 feet long. It is powered by an 8" hydraulic cylinder and a 40 HP hydraulic pump. The hydraulic pump is tucked underneath the work table of the machine. The machine has heavy guards, guarding the blade. The hydraulic cylinder is electrically operated by two push buttons connected in such a way so that the operator must keep both hands on the buttons while the blade is moving down for safety reasons. The two up-rights of the machine are made of 8" x 8" x 1/2" thick structural tubing reinforced by 1" x 6" plates on the inside where the knife holder rides. The cross members (where the cylinder is mounted) are made of 18" ship channel having 3/4" x 3" vertical ribs and boxed in with 3/8" plate.